Photography and imaging

Artist creates a video using 852 different photographs, from 852 different Instagram users.
Mark Buczko, December 3, 2013


Thomas Jullien is an art director, originally from France and now working out of the Netherlands. Obviously talented, he has reviewed Instagram images and created a short video with 852 images in a stop motion framework.    Jullien  states: "Instagram is an incredible resource for all kinds of images. I wanted to create structure out of this chaos. The result is a crowd source short-film that shows the endless possibilities of social media. The video consists of 852 different pictures, from 852 different instagram users."
I very much enjoyed the video, especially the first half.  It loses focus at just about the midway point but the project looks like a sincere effort.  I have some misgivings about unattributed work being used but copyright protection appears to be respected, but it is sketchy how credit is determined for content used. Jullien promises that "If you are one of them, shout and I will add you to the credits."
Boulder Photo Rescue Project helps flood victims recover flood damaged photographs.
Mark Buczko, December 2, 2013
The flood waters in Colorado damaged personal photo collections but a group of volunteers called the Boulder Photo Rescue Project is trying to help victims recover damaged photographs.  This is a wonderful effort that is led by a professional photographer.  While a corps of volunteers from photography programs across the country does not look feasible, it might be good preparation for a photo program to create a "disaster plan" to enable its students to help in local areas when the need arises. One can only wonder what will happen to images stored exclusively in digital format on a smartphone or local hard drive.
A link to a CBS News video is here and the Boulder Photo Rescue Project's Facebook page is here. Additionally, this is a link to a Fujifilm site with photo recovery tips that are pretty useful once translated - link.  An image from the Photo Rescue Project's Facebook page is below:
Panono GmbH proposes a throwable panoramic camera to capture 72 MP, 360° X 360° full-spherical panoramic images.
Mark Buczko, November 12, 2013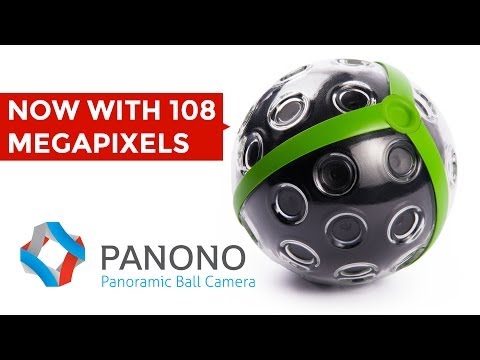 German company, Panono is developing a semi-rugged, throwable/"tossable" camera that may not get much traction as a consumer camera but could be a success for art, event, and, in an odd match, surveillance photographers. No matter what, the images the prototype captures do generate a sense of wonder.
The story goes that Jonas Pfeil, Panono creator, president and co-founder, was working on his master's degree in computer engineering at the Technical University of Berlin when it struck him that taking panoramic pictures should be easier than taking multiple single shots and later stitching them together on a PC.  In 2011, he presented his thesis and introduced a prototype of his "Throwable Panoramic Ball Camera" at SIGGRAPH Asia. Once he had his master's degree and an international patent pending, Pfeil formed a company in October 2012 to explore the commercialization of the camera.
Now in 2013, with a new design, he and co-founders Björn Bollensdorff and Qian Qin introduce Panono, a throwable panoramic ball camera that delivers the first-ever 360° X 360° panoramic images–full-circle front-to-back and above and below the camera.
The Panono Camera contains an accelerometer that measures the launch acceleration as the device is tossed to calculate when the it will reach its apex. At its highest point, the 36 fixed-focus cameras fire at the same time to take a 72 megapixel, high-resolution, full-spherical image. The camera can also be triggered by hand, carried on the end of a stick, or remotely triggered by smartphone or tablet.  Surely, some event photographer could use this, and I see how a military/police type could toss one of these devices to the right location to get needed images.  Remotely operated consumer drones could give Panono stiff competition as you can get nearly the same impact with that type of configuration.


The company is seeking $900,000 in funding on Indiegogo and plans to have a camera to market in about September 2014.  More can be found about Panono and the spherical camera at their Indiegogo site – here.
Austin Kleon, author: "Steal Like An Artist" - Being creative.
Japanese research develops imaging system triggered by brain waves.
Mark Buczko, November 11, 2013



Tadashi Nezu, reported in Nikkei Electronics that Dentsu ScienceJam has developed a wearable camera that automatically captures "when the wearer becomes curious about something."
The camera setup is called "neurocam" and consists of a smartphone paired with a headset mounted brain wave sensor. The brain wave sensor is a product of NeuroSky Inc. The sensor measures brain wave activity and based on those measurements, an index called the "Curiosity Degree" is calculated. If the Curiosity Degree exceeds a specified threshold, how much focus a subject gives to a scene, the camera automatically starts shooting a five-second GIF animation and saves it.
Matched to the GIF animation is time and location data to allow. Obviously, the GIF images can be shared with others. The camera debuted at Human Sensing 2013, a trade show that ran from Oct 23 to 25, 2013, in Yokohama, Japan. There may be some safety concerns with the smartphone positioned snug against the user's skull but there's merit in it from an artistic and a business/market research sense.
A link to the Dentsu ScienceJam site is here.
Link to Nikkei Electronics – link.
PENTAX has developed an on demand AA (anti-aliasing) filter.
Mark Buczko, November 4, 2013
There always seemed to be a trade off between high resolution false color and moiré. Anti-aliasing filters are designed to reduce false color and moiré through separating light by frequencies and obscuring outlines. In an effort to push resolution, some camera companies like Sony with its Alpha 7R have eliminated the anti-aliasing filter all together. With the PENTAX K-3, there is an AA-filter-free 24-megapixel CMOS image sensor to provide high-resolution images.
The K-3 is a design that emphasizes image resolution by eliminating an optical AA (anti-aliasing) filter. PENTAX has tried to achieve the best of all solutions with development of the world's first AA filter simulator that reproduces the effects created by an optical AA filter.  The expectation is that the K-3 makes the best use of the total resolving power of the 24-megapixel CMOS sensor in producing sharp, fine-detailed images while retaining the impression of depth and texture in images made by the camera.
The K-3 utilizes microscopic vibrations on the CMOS sensor during exposure to minimize false color and moiré. The on demand AA feature in the K-3 provides the benefits of two completely different cameras. In one device there are the high-resolution images assured by an AA-filter-free model, and minimized false color and moiré assured by an AA-filter-equipped one. The photographer can switch the AA filter effect and off as desired.
Three settings are available on the K-3 to obtain the desired effects: "TYPE 1" to attain the optimum balance between image resolution and moiré; "TYPE 2" to prioritize moiré compensation; and, "OFF" to prioritize image resolution.
Additional information here.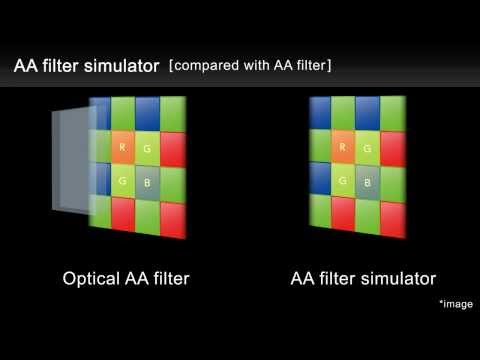 Sony video shows the components of its smartphone-centric QX100.
Mark Buczko, October 19, 2013
The new Sony® QX10 and QX100 "lens-style" cameras were recently announced and Sony also has taken the time to open up a QX100 Smartphone Attachable Lens-style Camera. The video below shows how all the parts of the camera fit into this new form factor of stackable components. Reportedly, the camera still worked after it was put back together which is either a tribute to Sony engineering or the technicians in the video.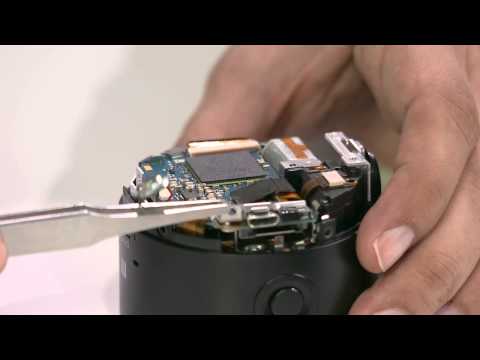 Qualcomm: "No need to buy or carry that expensive extra camera."
Mark Buczko, October 18, 2013
In a recent video, Qualcomm claims the Snapdragon 800 processor on a mobile device will allow it to have super sharp resolution and advanced features of traditional cameras plus features that still image cameras don't offer now. The point here is not to say how bad single purpose cameras are but to show trends influencing future photography students/consumers. Qualcomm product manager, Michael Mangan discusses the promise of the Snapdragon 800 in a video below.
Sony delivers lens shaped camera that uses a smartphone, and most likely a tablet, as viewfinder/interface.
Mark Buczko, October 6, 2013
The QX100 lens from Sony is the first step from a major camera manufacturer that changes how photo/ video can be made with a smartphone as a remote control. The camera-lens is  compact but Sony claims that it doesn't compromise on quality. Sony believes that any photographer can use the device to take photos and videos from totally new angles, in totally new and unique situations–a GoPro for the less extreme sports crowd.
The 18.2MP QX10  and the 20.2MP  QX100 use the EXMOR R Sensor for good low light performance.  Sony promises a fast charge time for the device batter. Taking pictures can be done directly from the lens itself, or through using the shutter control on a paired smartphone. The lens is designed to clip onto the smartphone, but also can be held at a distance using WiFi and NFC as the means of connection.
The product page is here.
A YouTube video from Sony is below: